3-D Mammography: Local couple's gift will save lives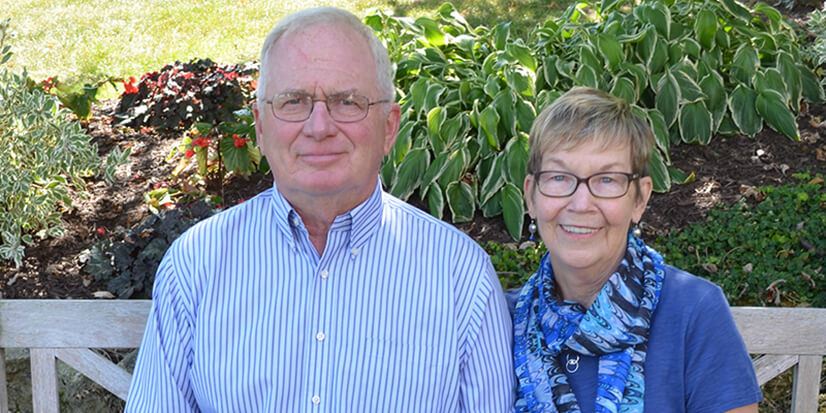 Eric and Irene Rapp helped make it possible for Sauk Prairie Healthcare to get a much-needed 3-D mammography machine.
Timing was everything for Eric and Irene Rapp. They wanted to support construction of the new hospital a few years ago, but it just wasn't the right time for them. And maybe that's exactly how it was supposed to be. The need for 3-D mammography would let them support the hospital in other ways.
Fast-forward to 2017, and the Rapps were ready to give back to the community healthcare organization they rely on. Eric and Irene live in the Spring Green area and get their healthcare at River Valley Clinic and Sauk Prairie Hospital.
"The staff is always so kind and deliver wonderful care," said Irene, a retired nurse who knows what it takes to care for a patient.
When they heard Sauk Prairie Healthcare needed a second 3-D mammography machine, the Rapps knew immediately why the timing hadn't been right a few years ago; this is how they were meant to make a difference. Because it hit home. Too close to home. Eric and Irene's daughter-in-law, Lauren, is a breast cancer survivor.
"Lauren serves as a reminder to us and our friends and family that you can beat cancer — if you have access to the right tools and healthcare," said Irene. The Rapps' donation to the Sauk Prairie Healthcare Foundation covered the purchase of a 3-D mammography machine.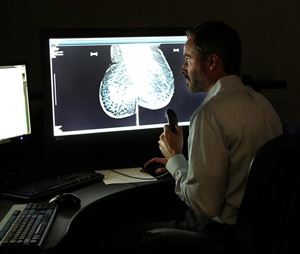 Dr. Neil Kennedy, radiologist at Sauk Prairie Healthcare, views 3-D images of a mammography exam.
One in eight women will be diagnosed with breast cancer. Many women will not experience symptoms. Therefore, catching cancer early is key to effective treatment and remission. Self-breast exams are important as well as seeing a doctor and getting routine mammograms.
"3-D mammography will catch more breast cancers and diagnose cancers earlier," said Dr. Neil Kennedy, radiologist serving Sauk Prairie Healthcare. "3-D technology enables us to view the breast in multiple slices. This allows for improved detection of small masses which could be obscured by overlying breast tissue."
"Having access to the latest technology gives people served by Sauk Prairie Healthcare a better chance," said Eric. "We hope by helping to provide that access more women and families won't have to hear those three words: you have cancer."
Eric and Irene hope what they did was like tossing a pebble into a pond, creating a ripple effect that will reach and inspire others.
"Share your time and talent by volunteering or donate any amount you can. It all adds up to make a big difference," said Eric.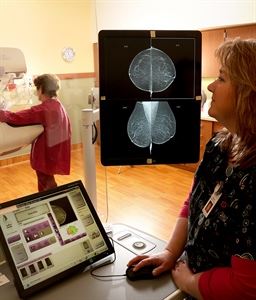 Mammography tech Rhonda Orozco performs a 3-D mammogram.
Why Choose 3-D Mammography?
41 percent more invasive cancers found by 3-D than 2-D alone.
3-D imaging is better able to examine dense breast tissue.
40 percent fewer false positives.
Women are called back less often for another look when using 3-D technology.