2019 Community Health Grants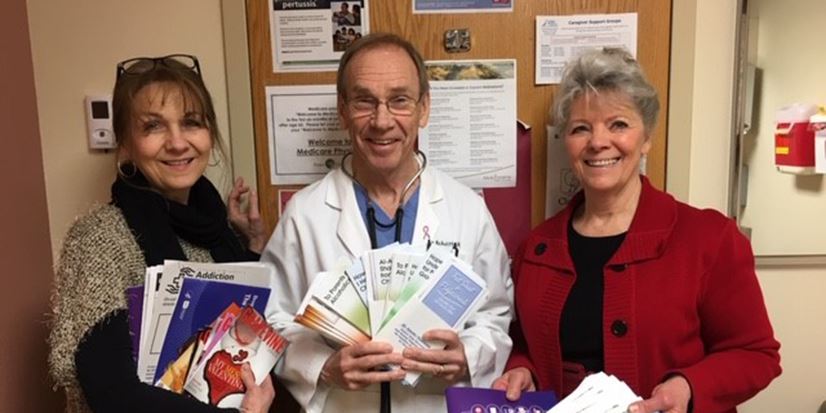 Sauk Prairie Healthcare Foundation is committed not only to the health of our patients, but to the health of the communities we serve. This year, we awarded more than $20,000 to the following projects:
Mazomanie
District One EMS: Funds used for CPR mannequins and free bike helmets for the community.
Joining Forces for Families: Wisconsin Heights Summer and After-School Recreation Program, building positivity and providing wellness programs to families.
Mazomanie United Church of Christ: Literacy Project, funds used to purchase and distribute a copy of Baby's First Book and Goodnight Moon to each baby born at Sauk Prairie Healthcare in 2019.
Plain
Kraemer Library & Community Center: Children's summer programming.
Sauk Prairie
6:8 Garden and Orchard: Provided healthy food alternatives along with skill development around gardening, volunteer cultivation and relationship-building.
Prairie Clinic: Provided funds for wearable fitness trackers and food scales to assist patients in weight management.
River Arts Inc. Coffee + Coloring: Provided a safe, non-threatening environment to be social, creative, and nurturing self-expression.
Sauk City Public Library: Foodwise at the Library Program, fund supported purchase of library materials and stocked the Little Friends of the Library food pantry.
Sauk Prairie Area Food Pantry: Feed our Future Project, funds helped to purchase food for school staff to immediately feed their students while at school.
Also stocked mini-Annex Food Pantries to allow staff to send home food with students in need.
Sauk Prairie Area Literacy Council: Literacy For All, money assisted with growing the Sauk Prairie Area Literacy Council to help meet increased demand and need.
Sauk Prairie High School: Biking curriculum for students, funds supported program designed to instill safe biking habits.
Sauk Prairie Middle School: Biking curriculum for middle school students, funds included supporting a "Biking Literacy" program within the community to encourage safe habits.
Sauk Prairie Police Department: Funds supported routine behavioral health wellness checks.
Sauk Prairie Schools: Afternoon Magic! Funds supported summer school program to address high obesity rates for students in the district from Bluffview and Maple Park.
Sauk Prairie Schools: Provided support for a CPR/AED/First Aid instructor starter package with CPR monitor and AED. Enabled hands-on training in CPR and First Aid classes.
St. Aloysius: Comprehensive Food Allergy Program, funds supported program to be implemented at St. Aloysius to educate staff, students, parents and ultimately community on importance of food allergies.
St. Vincent de Paul: Provided supportive materials including AA, NA, AL-ANON books to be used by those going through addiction treatment.
The Pines Senior Campus: Supported the Cycling Without Age program that provides seniors with the ability to get outside and to take a ride on a "tri-shaw" bicycle to enjoy our community and the Great Sauk State Trail.
Multi-Community: Sauk Prairie, Reedsburg, Spring Green, Plain, Baraboo, La Valle, Lake Delton, Sauk County Health Department
Sauk County Foot Clinics: Provided funds to deliver foot care in various Sauk County areas for $30 fee per person.
Sauk County Seal-A-Smile Program (SAS): Provided funds for dental sealants, fluoride varnish applications and oral hygiene education to Sauk County Children to reduce dental disease numbers.