Better Detection, Accuracy with 3-D Mammography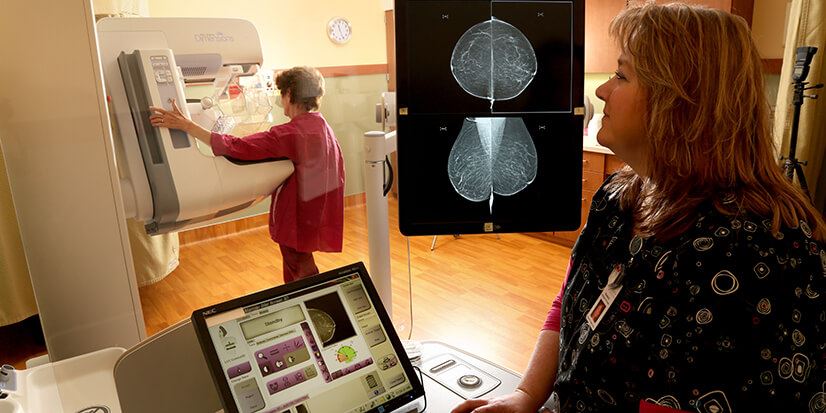 Technological advances have brought a whole new dimension to mammography, and with it, exciting improvements in the early detection of breast cancer. 3-D mammography, now available at Sauk Prairie Healthcare, can detect up to 41 percent more invasive breast cancers than traditional 2-D.
"3-D technology allows for the breast to be viewed in multiple slices," explained Dr. Neil Kennedy, a radiologist who practices at Sauk Prairie Healthcare. "This allows for improved detection of small masses which could be obscured by overlying breast tissue. This is especially useful in patients with dense breast tissue."
In addition to improved detection, 3-D also reduces the likelihood of false positive results by up to 40 percent.
"Whereas traditional 2-D offers a flat image in which superimposed layers of breast tissue can artificially create a 'fake' mass, 3-D technology gives us a much better view," said Dr. Kennedy. "This means that there should be fewer patients called back for additional imaging."
Dr. Ted Parins, general surgeon at Sauk Prairie Healthcare, agreed, "3-D mammography will not only find more cancers that are present, but also be more accurate in determining when a cancer is not present. The improved accuracy of 3-D mammography will mean that fewer women will have to worry about an abnormal study unnecessarily."
Dr. Parins and fellow general surgeon Dr. H. Clay Dean, treat women who have been diagnosed with breast cancer at Sauk Prairie Healthcare. The new 3-D technology is an exciting improvement in care.
"Overall, it will catch more breast cancers and diagnose cancers earlier, which will ultimately lead to improved prognosis for our patients with breast cancer," said Dr. Dean.
One in eight women will be diagnosed with breast cancer in her lifetime, according to the National Cancer Institute. That's why the medical community urges women to perform self-exams, as well as have mammograms. Most physicians recommend that women have routine mammograms once they are 40 years old, since this is one of the best ways to detect breast cancer early. Some women should start having mammograms earlier if they have other risk factors, such as a family history of breast cancer or if they smoke.
In addition to 3-D mammography, Sauk Prairie Healthcare also has 3-D biopsy capabilities on site.
"We can use the 3-D technology to better guide biopsies of the breast." Dr. Kennedy explained, "When an area of concern warrants a biopsy, we can better localize and visualize the lesion by eliminating the overlying tissue which could obscure the target."
"3-D biopsies are also performed with women sitting up, rather than having to lay on their stomach on an uncomfortable table," added Dr. Parins. "The procedure is much easier on the patient, as well as more accurate."
Women can make an appointment for a screening mammogram.
"We have recently upgraded all of our units so that we can provide this 3-D service for any patient, any time," said Dr. Kennedy. "I think this sends a powerful message to the community regarding the commitment Sauk Prairie Healthcare has to women's health."
For more on the differences between screening and diagnostic mammograms and how to prepare for one, visit www.saukprairiehealthcare.org/Mammography. To schedule a screening mammogram, call 608-643-7274.