Doctor's Orders: Take it easy and watch some March Madness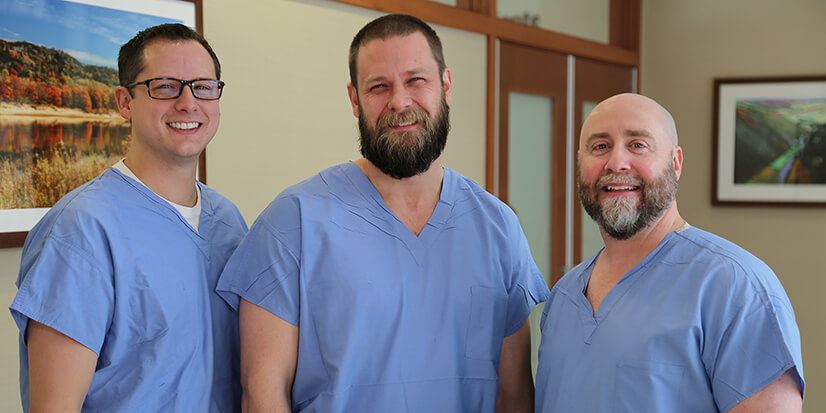 If you've been considering a vasectomy, March Madness might be the perfect time to do it. After all, if you have to take a few days to recover, you might as well enjoy college hoops.
According to the American Urological Association, every year in the U.S., 500,000 men choose to have a vasectomy as their form of birth control. A vasectomy has been found to be the most effective form of birth control, besides abstinence. However, because a vasectomy is considered a permanent form of contraception, it's important to consider what a vasectomy is, what it means for you and if you are ready to have a vasectomy before opting to do so.
What is a vasectomy?
Theodore Parins, MD, General Surgeon; Nathan Grunewald, MD, Urologic Surgeon; and Luke Fortney, MD, Family Medicine Physician perform no scalpel vasectomies at Sauk Prairie Healthcare.
"They do not require an actual incision. Instead, the no scalpel technique makes a small puncture in the scrotum to access the vas deferens, the tube that carries the sperm from the testicles. Once we identify the vas deferens, we are able to cut the tube to prevent sperm from being contained in the ejaculate," said Dr. Grunewald.
Dr. Parins further explains that there is little disruption to the body following a vasectomy. "The body deals with it very naturally," he said. While a vasectomy is a minor surgery, there are a number of factors to consider.
Is a vasectomy right for you?
Although sometimes reversible, vasectomy is considered a permanent birth control solution, therefore men and their significant others should discuss the decision to have one.
"There are a variety of factors we discuss with patients to ensure they can make an informed decision," said Dr. Grunewald. "How many children do you have? Are you planning to have more children? What's your relationship status? It's not uncommon for a patient to have a vasectomy and return years later with a life change desiring additional children. It's important to discuss this prior to vasectomy, so patients understand this is considered permanent."
The procedure can be performed in the office with local anesthesia in about 30 minutes. If you and your partner have thoroughly considered these questions and have determined that a vasectomy is the best option for you and your family, make an appointment to see Dr. Grunewald, Dr. Parins or Dr. Fortney. Simply call 608-643-2431 to schedule your vasectomy and then sit back, relax and watch some basketball.