Are symptoms of enlarged prostate keeping you up at night?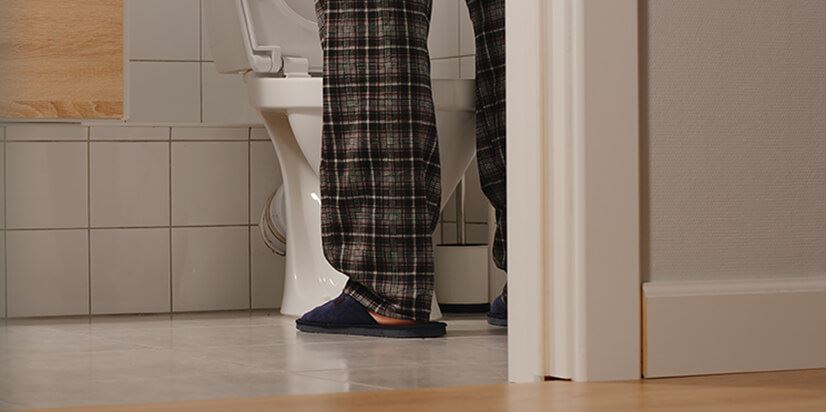 Guys, we need to talk
We need to talk about your health. According to a recent survey by the Cleveland Clinic, the majority of men said they'd rather talk about sports, their job or current events than their health. Forty percent of men surveyed said they do not get annual checkups and only two out of every five men go to the doctor when they have a serious illness.
The time to change the attitude towards men's health is now. November has become known as "Movember" in honor of raising awareness surrounding men's health, including prostate and testicular cancer as well as mental illness. Many men show their support by partaking in No-Shave November, during which they grow out their facial hair to draw attention to health issues that are common amongst men.
Enlarged Prostate
One of the more common, non-cancer health issues that men may face with age is benign prostatic hyperplasia also known as BPH, or put simply, an enlarged prostate. According to the American Urological Association, BPH affects approximately half of men between the ages of 51 and 60 and about 90% of men over the age of 80.
Since BPH is benign, it's important to note that BPH is not cancer nor does it cause cancer. However, it can cause discomfort, difficulty urinating, frequent nighttime urination, infections, and decrease your quality of life.
Despite its prevalence throughout the male population, it's not unusual for men to ignore symptoms. "It's common for men to believe this is part of the aging process, and their urinary stream is supposed to become slower," says Dr. Nathan Grunewald, a Urologic Surgeon at Sauk Prairie Healthcare.
It's true, an enlarged prostate is a normal part of aging in men, however it's not normal to experience some of the issues related to an enlarged prostate including discomfort when urinating, infections or a significant change to your life. Symptoms caused by BPH can sometimes be relieved with a simple trip to a urologist.
Understanding that there are things you can do to help improve urinary symptoms due to BPH is very important.
"You don't have to live with those symptoms and you don't have to be embarrassed. You can come talk to a urologist and learn what's going on," explains Grunewald.
As the only full-time Urologic Surgeon in Sauk Prairie, Grunewald specializes in kidney stones, enlarged prostate, male fertility, including no-scalpel vasectomy, low testosterone and erectile dysfunction, incontinence, recurrent urinary tract infections and genitourinary cancers including kidney, bladder, prostate and testicular.
Symptoms and Treatment
Grunewald explains that it's important to be able to identify the symptoms of BPH. Symptoms may include a weak urine stream, frequent need to urinate, waking to urinate several times during the night, trouble starting and stopping your urine stream and the feeling of being unable to completely empty your bladder.
If you're experiencing any of these symptoms, it may be time to schedule an appointment with a urologist to discuss possible treatment options. Treatments can be as simple as modifying your fluid intake. More commonly however, medical therapy is used which consists of a daily pill. When severe enough, surgery is an option. Grunewald explains that, "Surgery for BPH is common, though there are millions of men who can have satisfying years with BPH on medical therapy to help them pee."
Determining which treatment is best depends on the symptoms, frequency of symptoms and severity. Grunewald emphasizes, "I hope that patients understand that they can feel comfortable coming in to talk to me about those issues. They don't have to feel embarrassed. I am here to help."
This November, we remind you to be aware of men's health conditions like BPH. If you, or someone you know is experiencing any symptoms related to BPH, remember it is common and symptoms can be relieved with a visit to the doctor. To schedule an appointment with Dr. Grunewald to discuss this or other issues, call 608-643-2431.
Guys, it's time to talk.