Alyse's Birth Story
Author: Alyse
Date Submitted: Nov 15, 2022
Category: Birth Stories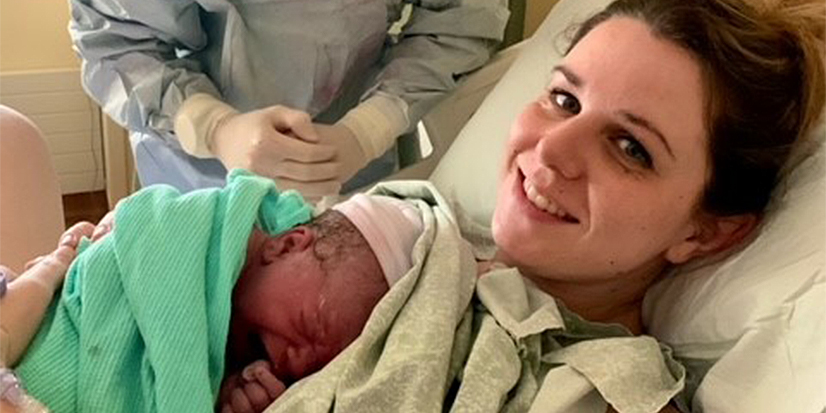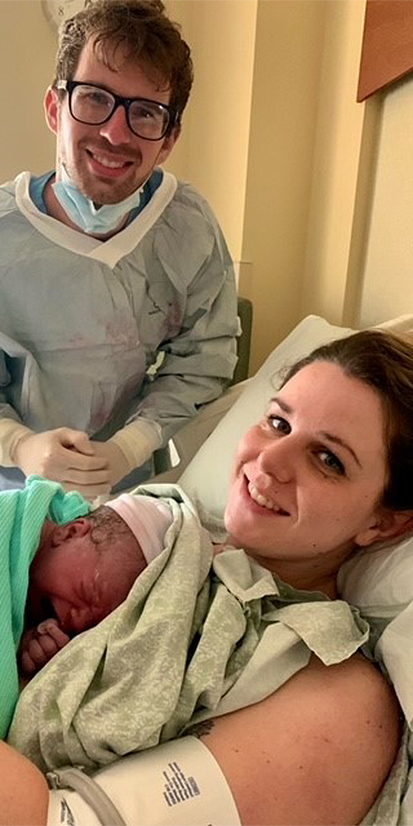 Some people leave a lasting impression on us, whether it is something they did, said or simply being who they are. For Prairie du Sac resident Alyse Betchner, that person is Dr. Maribeth Baker.
Dr. Baker is part of a team of seven providers at Prairie Clinic and Sauk Prairie Healthcare's Birth Center who deliver babies and work tirelessly at giving their patients the very best care during their pregnancies and beyond. The team includes a certified nurse midwife, family medicine physicians, and obstetrics and gynecologic surgeons.
While ultimately Dr. Baker delivered two of three of Alyse and her husband, Karl's children, Alyse's relationship with Dr. Baker goes back to her high school years.
"When I was 18, I became pregnant and my boyfriend and I decided to give him up for adoption," Alyse said. "Dr. Baker was my doctor throughout that journey, during one of the most difficult times in my life. And so, to have her as my doctor again to help bring two of our three boys into this world feels like the best way to end the journey of having kids. She was there when I wasn't ready to be a mom and she was there when I was. She has always been such a great support for me in so many ways and I know that my whole family means a lot to her."
After high school Alyse ventured off to college, attending Winona State University, in Winona, MN. That's when she met her brother's roommate, Karl. The two fell in love, married in 2015 in the Sauk Prairie area, even holding their reception at the Dorf Haus in Roxbury. They later moved closer to the La Crosse area where their first child, August, was born. And while their experience wasn't necessarily negative, it just couldn't compete with what was to come.
While pregnant with their second child, Wesley, the Betchners decided it was time to move back to Alyse's hometown. Once back in the Sauk Prairie area, it made sense to reconnect with Dr. Baker, Alyse said. And when they became pregnant with their third — and final — child, Alyse said it felt important to her and Karl to have Dr. Baker at the end of their journey. To ensure she could be present for their son Bode's delivery, Alyse said she opted to be induced.
Dr. Baker broke the amniotic membranes to manage the labor process. With time on their hands, the Betchners walked the grounds of the Sauk Prairie Hospital campus a few times, enjoying the beautiful weather. They recalled seeing the deep pink and red sunrise begin to emerge over the nearby prairie, with a view of the new Culver Community Park in the distance. "We noted how peaceful it was, and what a contrast it was to the noise of heavy traffic and location of their experience while in La Crosse," Karl said.
And when they felt comfortable with the nursing staff after a mere three minutes into their stay, Alyse said they knew it was going to be a good day.
"There was such a combination of transparency between us and the staff, and this confidence and excitement the staff shows that makes you feel good," Karl said. "And I know part of it comes from the community we live in."
With baby Bode's arrival seemingly stalled, Alyse got a dose of Pitocin to encourage him along, and without further ado, Bode was ready to meet his parents. Dr. Baker was called, and she rushed back for his arrival. So far things had gone mostly to plan, but Dr. Baker was about to throw them a curveball when she asked if Karl would like to help deliver his son.
"It threw me, because it was never a consideration with the other two," Karl said. "It meant a lot to me. To have that memory and our nurse, Megan, being a cheerleader and playing photographer for us…It is definitely something we will all remember forever."
Alyse recalls the moment from a different perspective. "They asked me if I was OK with that, and of course I was," she said. Laughing, she added, "As long as he doesn't drop him! But it really was amazing to see Dr. Baker walk him through everything. I think it was the best way for us to end our journey."
"She (Dr. Baker) was such a huge component of why we were so comfortable at Sauk Prairie Hospital," Karl said. "Really, everyone we dealt with went above and beyond our expectations. And Dr. Baker transformed our expectations of what a healthcare provider could be — like family."
Alyse said they were also grateful to have Jackie, a labor and delivery nurse at Sauk Prairie Hospital, on their care team the following day.
"She is the reason I actually became a nurse," Alyse said. "She was one of my nurses when I had my baby right out of high school, and then again when I had Wesley. The way she cared for and supported me meant everything. Because of her, I wanted to be able to make a difference in someone's life the way she did for me. I guess that is a big reason why Sauk Prairie Healthcare holds such a special place in my heart."
To learn more about the Birth Center at Sauk Prairie Healthcare, contact us any time. From tours to information about our providers, we're here to answer all of your questions.