Sauk Prairie Healthcare Receives Proclamation for 67 Years of Serving Patients and Community
Category: News
Posted On:
State Representative Dave Considine recently presented Sauk Prairie Healthcare CEO Shawn Lerch with a proclamation on behalf of himself and State Senator Dianne Hesselbein for 67 years of exceptional care and serving the healthcare needs of the region.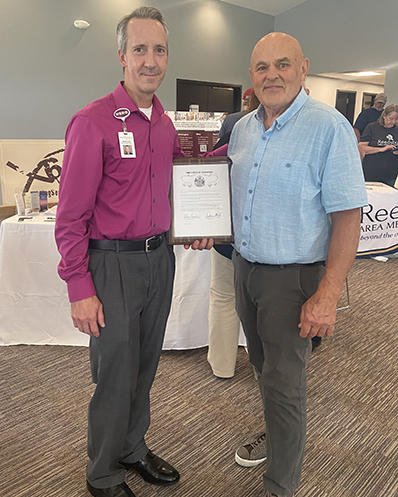 The proclamation spotlights Sauk Prairie Healthcare's delivery of services to those in need, expanded reach through four primary care clinics, commitment during the COVID-19 pandemic, and multiple recognitions for very high patient safety and satisfaction.
This recognition serves as a testament to the tireless efforts of the healthcare professionals, staff, and volunteers who are the heart and soul of the organization for nearly seven decades.
"We are deeply honored by the recognition from State Representative Dave Considine and State Senator Dianne Hesselbein," said Shawn Lerch, CEO of Sauk Prairie Healthcare. "Their acknowledgement of our long-standing commitment to quality, safety, and personalized care inspires us to continue our mission of making a positive impact on the health and well-being of our community."
Considine presented the proclamation to Lerch on Thursday, September 21, 2023.
For more information about Sauk Prairie Healthcare and its services, please visit www.saukprairiehealthcare.org.
Pictured: Shawn Lerch, CEO, Sauk Prairie Healthcare; State Representative Dave Considine, Assembly District 81