Award of Hope Presented to Sauk Prairie Healthcare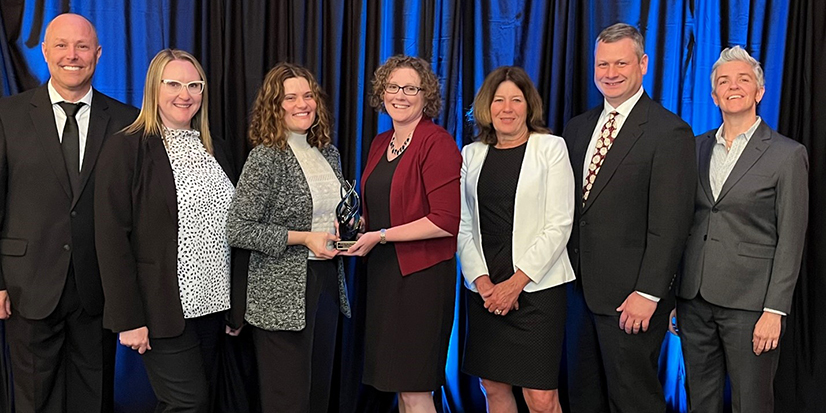 Sauk Prairie Healthcare earned the University of Wisconsin (UW) Organ and Tissue Donation (OTD) Award of Hope for the second year in a row.
This award was presented by UW OTD to recognize the comprehensive work of hospitals that achieve or exceed the goals of two important measures that maximize the gift of life: the true conversion rate, which measures the percent of medically eligible donors that become actual donors; and tissue transplanted per donor, which measures the average number of tissues recovered from each donor.
This year, Sauk Prairie Healthcare is one of 18 hospitals statewide that met a 60 percent consent rate of eligible donors. The work of our team and the generosity of our patients and their families resulted in 300 patients receiving help.
Tissue donation refers to the process of a deceased person donating part of their body for use in a transplant procedure to repair a recipient's physical injury or trauma. Examples of donated tissues include heart valves, bones, tendons, veins and arteries, and skin.
Donated tissue can repair, replace or reconstruct damage caused by tumors or trauma. These gifts give recipients additional medical options and can lead to better outcomes, which can offer hope to someone involved in a serious medical emergency. Tissue donation can end unnecessary suffering.
A gift of tissue and eye donation from one donor may potentially give two people sight through cornea donation. Donated skin may be used for skin grafting for burn victims or women who need reconstructive surgery after mastectomies for breast cancer. Donated bone may help with reconstructive surgeries after traumatic injuries or bone cancers, and donated tendons may help individuals who suffered sports-related injuries.
In comparison to the larger hospitals who received UW donation awards, Sauk Prairie Healthcare is small but mighty. It is with great pride that we accept this award as recognition that we are making a difference.
Pictured:
Michael Anderson, Executive Director of UW OTD; Alexi Suchla, Director – Acute Care; Faith Lathrop, Supervisor – Emergency Department; Belle Koch, Director – Emergency Department; Lisa Pickarts, Vice President – Patient Services; Julus Pahl, Supervisor – Acute Care; Dr. Nikole Neidlinger, Medical Director of UW OTD