2021 Sees Record Number of Births at Sauk Prairie Healthcare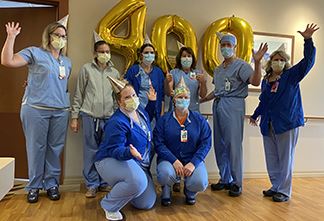 Sauk Prairie Healthcare delivered 402 babies in 2021 — the highest number of births in the hospital's 65-year history. The large number of deliveries is a significant increase over 2020 when 350 babies were delivered, and an exciting outcome given the declining number of births in the extended area over the last five years.
"We're observing a steady 2 percent annual decline in the number of births in our extended service area," explained Ken Carlson, Sauk Prairie Healthcare's Vice President of Planning/Business Development. "Yet the number of births at Sauk Prairie Healthcare has increased annually by almost 3 percent over the same period of time."
Of the 402 babies, 210 were girls and 192 were boys, and there were four sets of twins. The biggest baby weighed in at 10 pounds, 6 ounces, and the smallest was just 3 pounds, 5 ounces.
The most popular names given to the newborns varied from traditional to modern. For boys, the top names were Theodore, Rowan, Owen, Charlie and Jaxson/Jackson. For girls, it was Iyla, Paisley/Paisleigh, Eloise, Emma/Emily/Emmy and Natalie.
Eight providers deliver babies at Sauk Prairie Healthcare's Birth Center, including Obstetrician/Gynecologists Dr. Todd Schad and Dr. Kristine Bathke, Family Medicine physicians Dr. Maribeth Baker, Dr. Mary Campbell, Dr. Tom Varley, Dr. Kevin Vogt, and Nurse Midwife Diane Bindl, CNM, APNP.