Phase 1A COVID19 Vaccinations Begin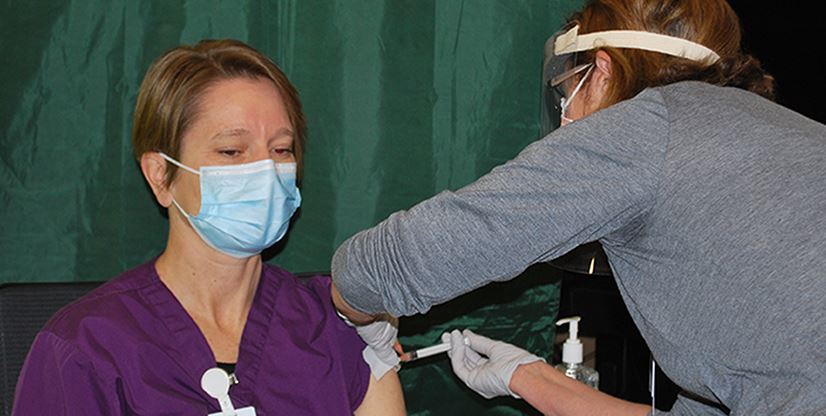 Sauk Prairie Healthcare has received its first shipment of the Moderna COVID-19 vaccine and began vaccinating some of its staff today. Respiratory therapist Elaine Jones and Emergency Room nurse Belle Koch were the first to be vaccinated at Sauk Prairie Healthcare.
Respiratory therapist Elaine Jones
"I feel very honored to receive the vaccine," said Koch. "I'm doing this for my patients, my coworkers, my family, and for the community as a whole. I think this is just part of the puzzle piece that goes with handwashing, masking and social distancing."
Jones agreed, "We've been through this for a long time and it's exciting to be able to see kind of a light at the end of the tunnel and be able to get back to some sort of normalcy eventually…I'm really looking forward to the future."
Wisconsin is in Phase1A of the COVID-19 vaccination prioritization guidelines in which only healthcare workers and skilled nursing facility residents are eligible to receive the vaccine. As the vaccine supply increases, the state will continue to work through federal prioritization guidelines.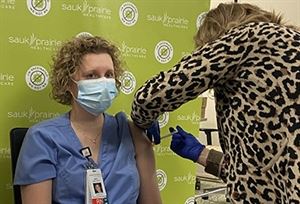 Emergency Room nurse Belle Koch
"We are so thankful to end the year feeling like there is finally light at the end of the tunnel," said Shawn Lerch, chief executive officer of Sauk Prairie Healthcare. "However, the need to remain unified has not ended with the authorization of the vaccines. The next 4 to 5 months will be a pivotal time in this fight until we are able to immunize the greater population. Until that time, we must continue using the proven prevention strategies of masking, handwashing and distancing."