Doctors Recognized for Careers of Community Health Care
Category: News
Posted On: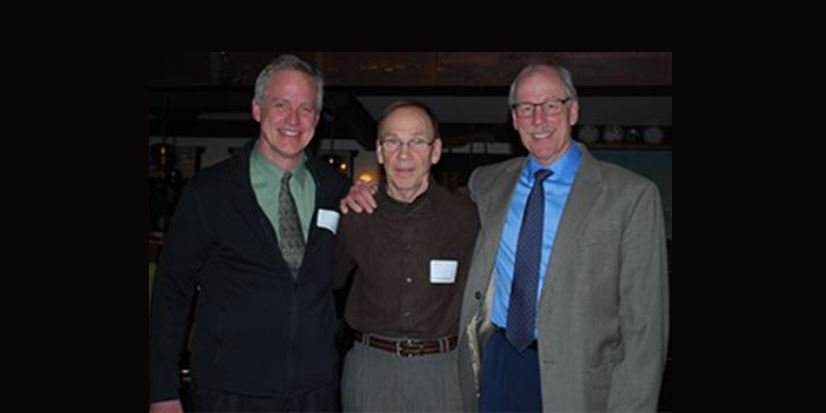 Dr. Tom Varley, Dr. John McAuliffe and Dr. Steven Johnson, recognized at the Sauk Prairie Healthcare Association Annual Meeting for their careers of service to the community.
At the 2019 Sauk Prairie Healthcare's Association Annual Meeting three doctors on our medical staff were recognized for decades of service and an immeasurable impact on the community.
Thanks and congratulations were offered to Drs. Tom Varley, John McAuliffe and Steven Johnson for their years of service to the Sauk Prairie area, each touching countless lives and shaping healthcare in the region. Among many accomplishments, together the three men have delivered 1,250 babies over the course of their careers.
Dr. Varley moved to Sauk Prairie 25 years ago to practice family medicine at Prairie Clinic, seeing newborns and new mothers at Sauk Prairie Hospital, as well as great-grandparents at Maplewood Health and Rehabilitation Center.
Dr. McAuliffe marked 40 years with Sauk Prairie Healthcare in 2018 and was recognized for his service of 32 years in the role of Chief Medical Officer, which will not be filled by Dr. Todd Schad. Dr. McAuliffe has been an advocate for opiate addiction awareness and treatment throughout the region.
Dr. Johnson has been practicing in Sauk Prairie for 35 years, one of only seven doctors at Prairie Clinic in 1983, including Dr. McAuliffe. Among the leadership roles of his career, for the past 19 years he has been Chair of the Sauk Prairie Healthcare Medical Staff Quality Improvement Committee.