Sauk Prairie Healthcare Receives Workplace of the Year Award from the Advisory Board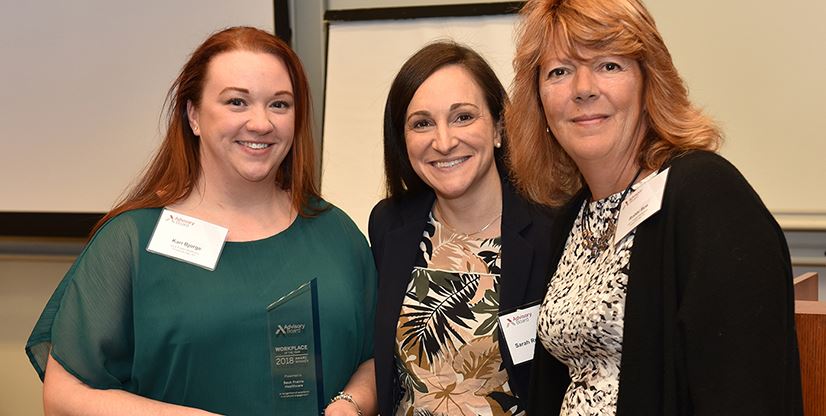 Local employer honored as a national leader in driving employee engagement
Sarah Rothenberger (center) presents Kari Bjorge, long-time member of Sauk Prairie Healthcare's Employee Excellence Committee, and Robbi Bos, Sauk Prairie Healthcare's Vice President – Human Resources, with the Advisory Board 2018 Workplace of the Year Award.
Sauk Prairie Healthcare has been awarded the Advisory Board 2018 Workplace of the Year Award. The annual award recognizes hospitals and health systems nationwide that have outstanding levels of employee engagement.
"In today's changing and often uncertain healthcare industry, engaging the workforce is arguably more important than ever before," said Sarah Rothenberger, Managing Director, Advisory Board Survey Solutions. "Engaged staff don't just enjoy their jobs and their workplace—they're willing to go above and beyond to help their organization succeed. Not surprisingly, healthcare organizations with higher levels of staff engagement also have higher patient satisfaction scores, better staff retention, and a stronger culture of safety. Our award winners have demonstrated an impressive ability to inspire the highest levels of engagement across the country while maintaining remarkably low levels of disengagement."
Engaged employees, as defined by Advisory Board, are those who exhibit both loyalty and commitment to the organization. These employees are willing to expend discretionary effort, often going above and beyond to help the organization succeed. The award recognizes Sauk Prairie Healthcare's commitment to creating a best-in-class work environment for its employees.
"Our phenomenal team members are truly at the heart of why patients and their families trust us," said Shawn Lerch, Sauk Prairie Healthcare CEO. "Our team is passionate about going above and beyond to do what is right for the patient, every time. This commitment to extraordinary care is evidenced through our exceptional quality, safety and patient satisfaction scores. I am so proud to be part of an organization where the team culture is so mission focused and pervasive in everything we do."
Sauk Prairie Healthcare is one of 20 organizations nationwide to receive the award.