Sauk Prairie Healthcare receives award for zero hip and knee replacement infections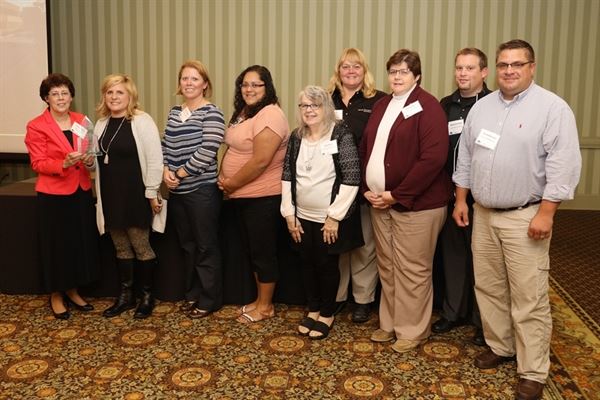 Sauk Prairie Healthcare has received an award for its efforts in preventing infection for all its patients with hip or knee replacements in 2016.
The Wisconsin Division of Public Health (DPH) Excellence in Surgical Care Award was presented to Sauk Prairie Healthcare at the Fifth Annual Surgical Site Infection (SSI) Prevention Summit in Madison on Sept. 29. Sauk Prairie Healthcare is one of seven healthcare facilities in Wisconsin to receive such an award across multiple surgical procedure categories. The facilities were selected because the occurrence of surgical site infections among their patients was significantly lower than the national baseline in 2016.
At Sauk Prairie Healthcare during 2016, zero patients with hip or knee replacements developed SSIs out of more than 800 procedures. Sauk Prairie Healthcare's six orthopedic surgeons include Drs. Andrew Ertl, Matt Hebert, Diana Kruse, Mike Lamson, David Marcu and Arnold Rosenthal.
"We take infection control very seriously and our committee is comprised of both patient care and support staff who see to it that protocols are in place to ensure we are doing all we can to prevent infection," said Tina Scallon, Infection Control Practitioner for Sauk Prairie Healthcare. "Those protocols range from clean operating rooms and hand hygiene to pre-surgical screening. We're doing all we can to prevent infection before, during and even after your hospital stay."
"Hip or knee replacement can be a life-changing surgery, giving patients their independence back and greatly improving their quality of life," said Dr. Hebert. "If an infection develops, it is a major setback. Our team approach to infection prevention has allowed us to minimize these risks. It is just gratifying to know that our dedication to excellence in quality care is being recognized."
According the Wisconsin Department of Health Services, this recognition indicates that Sauk Prairie Healthcare's team is committed to providing safe, high-quality surgical care to its patients.
"This recognition truly demonstrates Sauk Prairie Healthcare's culture of extraordinary healthcare, from the heart," said Shawn Lerch, CEO at Sauk Prairie Healthcare. "This wonderful achievement is the result of our team's commitment to continuously working together to identify and provide the safest care and practices, demonstrated throughout the entire organization."