Hip Replacement Surgery is a Game Changer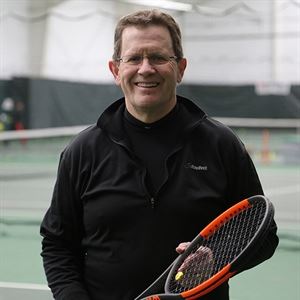 Bob Gingras sailed a tennis ball over the net at his opponent. His wife joined him for a friendly game; although, there might be different stories as to who won the match.
"I love tennis," Bob said. "I love the strategy, geometry and discipline of it. Most of all, I love that my wife and I can play tennis together."
The 61-year-old Madison lawyer and father of four is grateful he can be on the tennis court at all. Bob has had both of his hips replaced.
"I was really struggling prior to the surgeries," Bob said. "I played a lot of basketball and football over the years and that really did a number on my hips. I didn't even notice I was limping. I had difficulty sleeping because the pain would sometimes flare up. Getting down on the floor to play with my five- and six-year-old children was painful."
Bob had osteoarthritis. "Osteoarthritis happens when the cartilage used to cushion the joint is worn out and can cause quite a bit of pain," said Dr. Michael Lamson, an orthopedic surgeon at Sauk Prairie Healthcare. "We remove the worn-out cartilage and any bone spurs that may have developed and then put in an artificial implant, that in most cases feels very natural to the patient."
Bob had his left hip replaced in Chicago in 2009, but was happy to discover he could get world-class care much closer to home when he needed the same procedure for his right hip.
"Insurance certainly played a role, but it wasn't the only consideration," said Bob. "I need to feel comfortable with my doctor and have a connection, in addition to the surgeon's approach to the surgery."
Bob heard about Sauk Prairie Healthcare from a friend who was also considering a joint replacement. After doing research online and hearing positive things about the hospital and surgeons from physicians he respects, Bob made an appointment with Dr. Lamson.
Combined, Dr. Lamson and his fellow orthopedic surgeons performed over 800 joint replacement surgeries at Sauk Prairie Healthcare in 2016.
"We're very proud of the fact that we had zero infections last year in our hospital's join replacement program," said Dr. Lamson. "We go to great lengths to ensure quality and patient safety."
Bob agrees, "Anyone thinking about having surgery should find out what the infection rate is at the hospital they might have surgery at. It certainly played a role in my decision."
Feeling confident with the surgeon was also a big factor for Bob.
"I liked Dr. Lamson right off the bat," Bob said. "He had the right demeanor. He was intelligent. Dr. Lamson also used a similar approach to the surgery I had in Chicago. There was no doubt in my mind that I wanted to go to Sauk Prairie Healthcare and have Dr. Lamson perform my hip replacement."
Bob made his surgery appointment within just a few weeks of his initial consultation with Dr. Lamson. "He explained everything to me so I felt well-informed and knew step-by-step what would happen before, during and after the surgery," Bob said. "I felt I was always safe and in good hands throughout the whole process."
While there are a few options for how the surgery is performed, Dr. Lamson used a technique called anterior hip replacement on Bob. The anterior approach is when the surgery is performed through the front of the hip. Sauk Prairie Healthcare was the first to offer this type of approach in the area.
"It allows for less trauma to the muscles and tissues surrounding the hip," said Dr. Lamson. "When I do the surgery through the front of the hip, I can monitor how the implants are positioned much more easily with a machine that is basically a digital camera. This allows for a better placement, which means the implant should last longer."
Dr. Lamson adds that not everyone is a perfect candidate for surgery, so the best thing is to talk to your surgeon to see which approach is right for you.
Many people are surprised at how quickly they can get back to doing the things they love after hip replacement.
"The most remarkable thing that I really appreciated was that I was golfing five weeks to the day after the surgery," Bob said. "That was a goal I had. Dr. Lamson helped me reach it."
The way he was treated at Sauk Prairie Healthcare also stood out for Bob.
"Everyone was great," said Bob. "I would get a response the day I would email or call. The physician assistant was thorough and a pleasure to chat with about mutual interests. The team there is clearly dedicated to making sure patients receive the same care their own family member would receive at Sauk Prairie Healthcare."
That dedication isn't something Bob thinks happens everywhere.
"You don't always get that at the larger medical institutions," he said. "You're sometimes lost in the shuffle. I never felt I wasn't important to whomever I was talking to at Sauk Prairie Healthcare."
And, if Bob were to have one regret...
"I feel 100 percent better than I did before the surgery, so I kind of beat myself up for not having it done sooner," Bob said. "The surgery has changed my life. I have a better quality of life now that I don't live with the pain anymore."
These orthopedic surgeons offer hip replacement surgery at Sauk Prairie Healthcare: