Foot and Ankle Surgeon Offers Options for Arthritis of the Ankles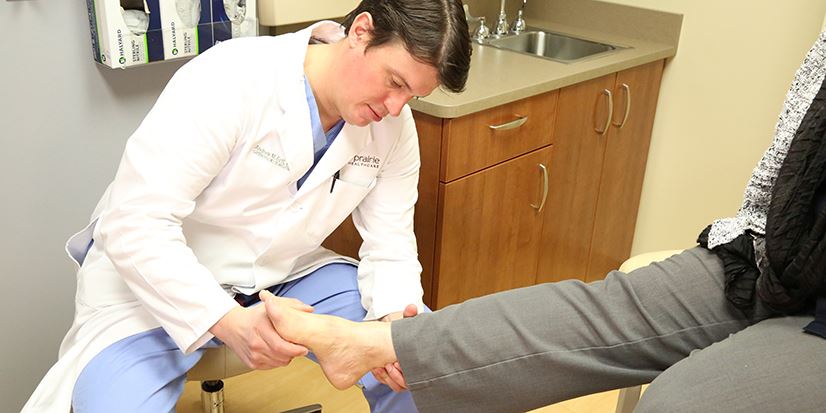 Chronic pain and arthritis of the ankles can be downright debilitating. That was the case for Gerard Gundlach of Spring Green, when he limped into Dr. Andrew Ertl's office opened at Sauk Prairie Healthcare in Fall 2016.
"I could barely walk, go up and down stairs or play with my grandchildren," said Gerard. "I hurt my ankle again when I stepped on uneven ground in my yard and finally reached the point that I couldn't live like that any longer."
Arthritis had set in and Gerard had suffered too long. According to the American Academy of Orthopaedic Surgeons, arthritis is depletion of the cartilage that forms the joint and covers the ends of the bones. It can cause stiffness and pain in any joint and is common in the small joints of the foot and ankle.
"I have had ankle pain for a very long time," said Gerard. "I played a lot of sports and sprained my ankle more times than I can count. I drove a forklift for work, so getting in and out of that didn't help over the years either."
His primary care doctor at Sauk Prairie Healthcare's Plain Clinic, Dr. Jeffrey Collins, recommended Gerard see a surgeon to discuss his options. Gerard thought ankle replacement might be what he needed.
"Unfortunately, Gerard's ankle was too damaged for an ankle replacement," said Dr. Ertl, an orthopedic surgeon with a special focus on foot and ankle. "It's like a road that has been worn. Ruts in the road are one thing, but it's a whole different scenario when you add in a giant pothole that has changed the shape of the pavement."
X-rays confirmed that Gerard's ankle was in rough shape and an ankle fusion was his only option to alleviate the pain and fix the problem. To perform the surgery, Dr. Ertl removed the surface of the ankle joint, and fused together the foot and leg bone.
It's been a few months since the surgery and Gerard is finally able to walk without the pain he lived with for more than 10 years.
"It changed my life," Gerard chuckled. "Surgery isn't fun and the recovery is long, but I am glad I did this."
"Ankle fusion is a 50/50 deal," said Dr. Ertl. "50 percent of the work is mine. The other 50 percent is the patient's. You will be in a cast for two months and then a walking boot. Daily activities will be a challenge, but living without the pain after the surgery is usually enough motivation for people."
Dr. Ertl will always exhaust all options with patients before suggesting surgery. "I look at it as an interview of sorts," said Dr. Ertl. "I ask several questions about how the issue impacts your life. We take X-rays, maybe CT scans and then, together, we go through it all. Non-operative treatments are my first choice – always."
Some things Dr. Ertl will have a patient try prior to having surgery:
Decreased activity
Cushioned and specially contoured shoes
Bracing Walking aids (such as canes)
Steroid injections
"Just because you have arthritis, doesn't mean you need surgery," said Dr. Ertl. "It has to be the right decision for you."
Are you suffering from chronic ankle and foot arthritis and wonder if surgery is right for you? To schedule an appointment with Dr. Ertl, call 608-643-2471.