It's Personal: New CEO knows importance of quality care
Category: News
Posted On: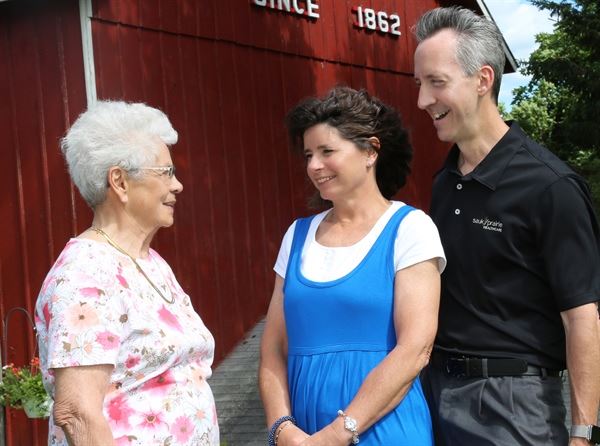 Shawn Lerch, the new CEO of Sauk Prairie Healthcare, can appreciate the importance of treating patients like family. After all, Shawn's extended family has been part of our community for more than 150 years.
Originally from Albany, Wis., Shawn spent seven years in the Navy before beginning his career in healthcare as a physical therapist assistant. It was during that time that he married Lisa Theis of Cross Plains, Wis. A common family name in this area, it only takes a few minutes of conversation with the couple to realize how closely they are tied to the area.
"For me, it's personal," Shawn said. "I can see how healthcare impacts people's lives — people I care about. I wanted to be part of a system where care is personalized and you have local control to make decisions for the benefit of the community."
Shawn earned his master's degree in healthcare administration from the University of Minnesota and took his skills and ideas to a medical center in Raton, N.M. — one of very few hospitals that provided critical care between Santa Fe, N.M. and Pueblo, Colo. After five years in Raton, and being offered positions at large healthcare systems, Shawn knew he wanted to be part of a community-based health system.
"My time in New Mexico was incredible, but Lisa and I always watched back here, and specifically Sauk," Shawn said. "I saw what Sauk Prairie Healthcare was doing, not only from a growth standpoint, but most importantly its focus on quality. This commitment to extraordinary care is evidenced by the recent double-5-star recognition. Sauk Prairie Healthcare is only one of 19 hospitals in the nation to receive this quality recognition."
When asked about his first order of business as CEO, Shawn emphasized that he will take time to learn about Sauk Prairie Healthcare and the community's needs and goals, so that he can build on our successes and identify new opportunities.
"My philosophy is always to be positive." He added that this includes how we approach every issue and make a positive difference, including in quality. "We're the community's hospital. It's our role — our responsibility — to positively affect people's health and wellness," he said. "And it's my job to make sure we do just that."