Mask Angels: Local group sews and donates more than 3,000 masks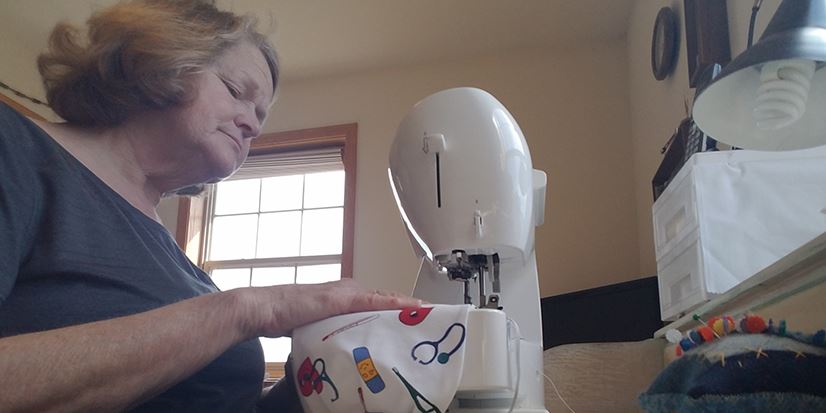 Elaine Mack was perfectly positioned to lead a local maskmaking project. She is an avid quilter and active volunteer with a network of like-minded friends. She has worked in manufacturing and understands a production line and in special education so she understands how to motivate people. She also has worked in nursing homes and can empathize with vulnerable populations. All of those talents were tapped when the pandemic hit.
In early March, Elaine was with a group of retired friends who attended daily mass and had coffee after. She said, "We started going to The Pines and Maplewood Village to see some other friends once a week. When the pandemic hit, the manager of The Pines told me, 'We are going to have a lot of need for masks, and I know you and some of your friends sew and quilt. Would you be willing to sew some masks?'"
At about the same time, Sauk Prairie Healthcare put out a plea to all sewists to make masks. Elaine knew she could help and emailed two dozen friends.
She experimented with the mask design and made several prototypes, testing each with a spray bottle to see if the liquid would penetrate the mask. She settled on a design that provided an effective barrier.
The group got started and was in full swing by the end of March. As the pandemic progressed, the mask-makers all needed to retreat to their homes. "We needed to come up with a system where no one met face-to-face," Elaine said.
It also became clear that some people were better at some aspects of the task, so a makeshift assembly line was created.
Elaine said, "I recruited my husband to do deliveries and pickups. For those who couldn't or preferred not to sew, they were able to cut fabric.
Others measured and cut elastic and bias tape. Some perfected the pleating. Those who sewed, were working hard on their machines."
And the sewists did work hard. Elaine said, "Some of them were sewing 12 hours a day and it caused physical stress to hands, back, etc." Elaine and a friend developed neuropathy and needed a cortisone shot in their hands. "We're all retired (average age 73) but we were working harder than if we had full-time jobs," Elaine observed.
By the end of July, Elaine and her group of 20 friends have produced 3,000 masks. She said, "Right now, everyone is taking a break. We know that we may need to start again in the fall."
Elaine said the group will be ready to redeploy, if needed, because, "We all love being able to help other people."