More Than $25K Awarded to Community Organizations for 2020 by Sauk Prairie Healthcare Foundation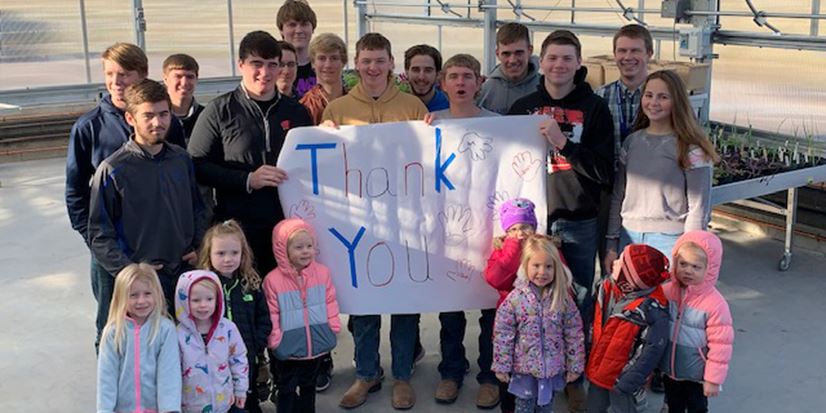 Lodi High School received a 2020 grant from the Sauk Prairie Healthcare Foundation to fund a project where high school students worked with "Little Explorers," to plant and harvest herbs in the greenhouse.
Every year, Sauk Prairie Healthcare Foundation supports community projects that contribute to the health of the community. Organizations apply for these "Healthy Life Grants." Applications are reviewed by the members of the Foundation Board Grants and Gifts Committee.

The grantees for 2020 have been selected. According to Todd Wuerger, Executive Director of Sauk Prairie Healthcare Foundation, "The total amount awarded for next year was more than $25,000. We thank our supporters and donors who make these gifts possible."
2020 Healthy Life Grant Recipients:
Baraboo
Aging & Disability Resource Center of Sauk County: Funding will help the center to offer a more diverse meal option for older adults in the Sauk Prairie area by adding a salad bar.
Black Earth
Heights Unlimited Community Service Center: The Foundation grant will support area food banks in an effort to provide more healthy dairy items to clients.
Joining Forces for Families: Grant funding will support building positivity and providing wellness programs to families.
Bluffview
Ruth Culver Community Library of Prairie du Sac: Funds will be used by the library to support residents in Bluffview who do not have library access due to lack of transportation. The grant will allow the Dane County Bookmobile to take the library to the residents of Bluffview.
Lodi
Friends of the Lodi Public Library: Lodi Public Library has insufficient programming for adults and no health programming. This grant addresses both issues.
LODI C.R.E.W., Lodi High School: Funding will support "Little Explorers," who will be planting herbs in the high school green house, caring for their plants and harvesting them with the guidance of the agriculture department and the high school students.
Lodi High School: During the 2018-2019 school year, 46%-58% of Lodi High School students reported experiencing significant problems due to anxiety. The grant will be used to offer yoga and teaching coping skills and stress management will reduce these percentages.
Mazomanie
Mazomanie Municipal Swimming Pool: The grant will be used to help pay for a training course for lifeguards.
Mazomanie United Church of Christ: Funds will be used to encourage reading to babies with the purchase of books for newborns. In Wisconsin 1 in 5 adult readers are not able to read at a 4th grade level. Reading to babies 0-3 aids in brain development. By encouraging adults to read to babies, UCC hopes to change the cycle of non-reading.
Prairie du Sac
Pack 373: The grant will support the pack in a community service project to promote literacy in the area by constructing and placing Free Little Libraries at multiple locations in our region.
Sauk Prairie National Honor Society: Funds will be used to bring a mental health speaker to the school to help people that are struggling with mental health issues.
Sauk City
6:8 Inc.: 6:8 is working to reduce the poverty rate in the Sauk Prairie School District by 10% in the next 10 years through weekly programming and community engagement.
Sauk City Fire Department: The funds will be used to add an AED to the fleet.
Sauk City Public Library: The grant will help encourage a healthier lifestyle by providing information about cycling and bicycles for check out.
Sauk Prairie Community Education: Funds will be used to purchase pool inflatable structures to enhance existing pools and increase programming to drive attendance.
St. Aloysius School: The initiative at St. Aloysius will strive to have children more active.
Spring Green
Community Food Pantry of Spring Green : The 2020 grant will continue the semi-annual program to provide new underwear to the minor children of the food pantry clients.
River Valley Community Chorus, Inc.: Funding will support the chorus' participation in the April 2020 Musicians Unite to Fill and Empty Table Concert.
River Valley Early Childhood and Elementary: The grant will be used to support use of the website Inner Explorer, which walks a class through age-appropriate exercises for mindfulness in 5-10 minutes.
Spring Green Ambulance: Funds will be used to purchase equipment needed for Health Day.
Multiple Communities
Sauk County Health Department: Funds will be used to support the County in providing foot care in various Sauk County areas for a $30 fee per person.
Sauk County Health Department: The grant will be used to protect and promote health, prevent/reduce disease and injury to citizens of the County by providing quality education, information/resources and health programs.
Black Earth/Mazomanie Recreation Program: The grant will help provide free yearly events and recreation activities for youth in villages of Black Earth and Mazomanie.
Sauk Prairie School District Summer School: This grant will support summer programs designed to address the high obesity rates in grades K-5 in the Bluffview and Maple Park areas. The focus will be on educating economically disadvantaged youth on healthy food and exercise options.